Make an Impact at Your Next Event With World-class keynote speaker and multiple-time international bestselling author, Wendy Lipton-Dibner, MA

Wendy Lipton-Dibner is internationally recognized for her unparalleled ability to move people to action!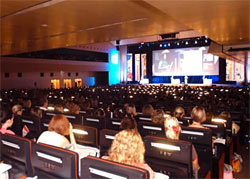 "Wendy not only did an outstanding presentation for our International Congress ( 3000 people), she customized the presentations specifically for our customer making her segments a seamless part of our two day program. She undoubtedly was one of the most popular speakers of all time."  
— Dr. Diana Howard, Vice President, The International Dermal Institute & Dermalogical
"Wendy held an international audience of 2,000, speaking 27 different languages spellbound — ending with a standing ovation!" — Gary Saretsky PhD, Director of Business Development, 
Ability Awareness
"Wendy's topics are timely, her information is practical and her delivery is highly engaging and interactive. I find that she brings a fresh perspective to the practice management side of dentistry. Her recent publication: The Action Formula: The Shortest Distance Between What You Have and What You Want, is a primer for both dentists and business people in general."  — M. Constance B. Greeley, DDS, Private Practice, Treasurer,
Mid-Atlantic Society of Orthodontists
"Thanks again for an incredible weekend!!!!!!   The difference with staff morale and productivity is amazing.   Personally, I feel completely rejuvenated. The insights I have gained are helping me in the hospital, exam room, and at home."  — Daren Primack, MD, Pacific Heart and Vascular Medical Group
"Wendy is a skilled teacher who communicates complex, scientifically grounded processes in a simple and fun format. I found her training style to be both entertaining and practical. Because of this, I brought her in as a speaker for the Chicago Dental Society, and I have recommended her for future engagements." — Robert Manasse, DDS, Director, Chicago Dental Society, Professor, University of Illinois Dental School
"We've hired Wendy twice to speak to our professional association and she always brings a lot of energy and insight to our group. Any group of professionals that has to work with other people, either the public or each other, can benefit from Wendy's work."  — Laura Dennison, M.A., CCC-A, Georgia Association of Hearing Professionals
"Our conversion rate instantly improved dramatically, but more importantly, our patient satisfaction rate soared.   As a result of the workshop, everyone in the office works well together, highly motivated with a calm sense of purpose. My professional life has never been better."  — Luke Curtsinger, MD, Coastal Plastics Surgical Group
When Wendy speaks, people change. They change how they think, they change how they feel, they change what they do and they change what they get. Her results are even stronger than her presentations.
If you're a meeting planner, click here to learn more or contact us to discuss how Wendy can help you make a measurable impact at your next event.