Elite Video Mastery E-Course and 12-DVD Home Study Course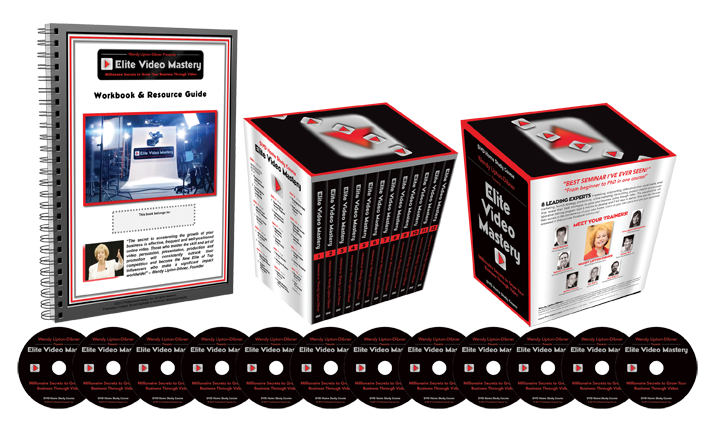 Discover the secret strategies millionaire marketers use to script, present, record, edit, upload and promote online video in the most comprehensive training ever created to help you attract, convert and serve everyone you want to reach with online video.
Wendy Lipton-Dibner, is the only woman who had the background and experience to make this one-of-a-kind course come to life. She knew her expertise in video scripting, presentation and conversion wasn't enough to help her audiences attract, convert and serve everyone they wanted to reach online.
So she spent a full year tracking down the top experts in video production, project management, video promotion, traffic building through social media, list management, product creation and corporate sponsorship.
And she found them!
Eight leading experts – each alone had 1 piece to the puzzle…
Together, they had it all.
They spent nine months collaborating to create the most complete program ever created.
Determined to level the playing field and make their knowledge accessible to a wider audience, they revealed the secrets they developed and used to help their top influencer clients make millions. They held nothing back.
Wendy coordinated the massive collaborative effort. Each contributor spent hours working with her to make their presentations educational, entertaining and easy to follow.
All their efforts paid off for the elite group who got to witness the one-time-only live training.
Now you can watch it all at your convenience – anytime, anywhere on any device!